School of Natural Health
The Sophia School and Clinic of Natural Health provides high-quality professional treatment and professional training in natural medicine. Our ethos is purely about inner vitality, true positivity and clear support. Our aim is to provide natural health care that is sustainable, works alongside other treatment and medications you may be using, as well as providing high level help in the changing needs of today's illnesses. We bring this ethos and aim into our School and Clinic to ensure we are delivering …with a difference.
Sophia means 'wisdom'. In our current age of fast living, fast foods and fast needs to be met, it has meant that our health has been ignored. At Sophia, we feel that the wisdom we have within us can transform our health and subsequently our lives. By addressing our health needs we shift into a balanced life, with clear thinking and clear actions. We believe that Vital Wisdom and Vital Health are part of the golden thread running through a Vital Life. This golden thread allows us to connect with our human potential.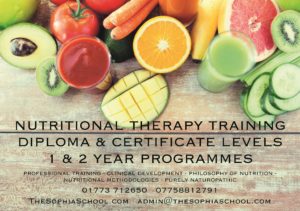 Nutrition Diploma Course
Nutrition is an important factor in our everyday health and well-being. We cannot maintain and sustain a healthy inner and outer world unless we have good quality nutrition and well-being.
At the Sophia School we provide you with a firm grounding and professional training on Nutritional Medicine through classroom teaching and high quality Lecturers, content and Clinical training.
Homeopathy Training Derbyshire
Our Treatment Clinic is based at Edith Lewis House, Weleda UK in Derbyshire. We are open Monday to Friday 8.30am to 5pm and Saturdays 10am to 4pm.
Our Clinic prides itself on high quality, professional treatment in Nutrition, Homeopathy, Inner Foundations Therapy (copyright 2013) and Reiki. All our Practitioners are qualified, experienced and fully insured in their field. We work closely and respectfully with our wider medical colleagues, ensuring that we provide supportive approaches to patients at all times.
Our Training School offers both professional and short courses in Nutrition, Homeopathy, Inner Foundations and Reiki. With the wider understanding of our modern world, our courses are both classical and contemporary. We provide strong foundations in knowledge, research skills and the ability to work across disciplines. Our School provides a diverse yet specialist curriculum, drawing on good practice methods and approaches. This does not effect the spiritual and healing dimensions of our work, but adds to training standards.
Our training allows for awareness, understanding and, if you are considering a professional course, a bright new direction with a new fulfilling career.
We offer Events for the qualified natural health professional by way of continuing professional development (CPD), as well as awareness talks, short courses and foundation courses for the public.